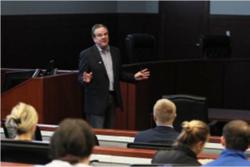 Mr. Sullivan is a trial lawyer who strives to meet the highest standards of the legal profession, while being recognized as among the finest trial lawyers in Florida. He discussed with the students what he believes are the five fundamentals of being a successful trial attorney: telling the truth; being the most respectful person in the courtroom; being prepared and organized; mastering the rules; and being yourself but learning from others.
"These are the most basic things you can learn," Sullivan said. "From the very first day you step foot out of law school, you are building a reputation that you are going to carry with you for the rest of your life."
He also encouraged students to find their own personal style in order to allow everyone in the courtroom to understand they are genuine.
"You are whoever you are right now," he said. "You're not going to be someone different five years from now. However you relate to people, you're probably going to relate that way for the rest of your life. You've got to be whoever you are and make that your style."
This speaking engagement comes on the heels of Mr. Sullivan being selected as the FLABOTA 2012 Trial Lawyer of the Year in July of 2012. He accepted his award in person at the FLABOTA Convention July 19-22, 2012 at the Ritz Carlton in Key Biscayne, Florida.
Edward W. Gerecke, President of the ABOTA Tampa Bay Chapter stated "Tim has been a lecturer, particularly with reference to civility and ethics, at a variety of Bar and trial-related seminars. He is known for "taking the high road" and his devotion to professionalism. He has been a mentor to many young lawyers, teaching not only the fine points of trying a case, but also how to conduct oneself as a professional."
For more information about Ogden & Sullivan, P.A., please visit www.ogdensullivan.com or the International Society of Primerus Law Firms.